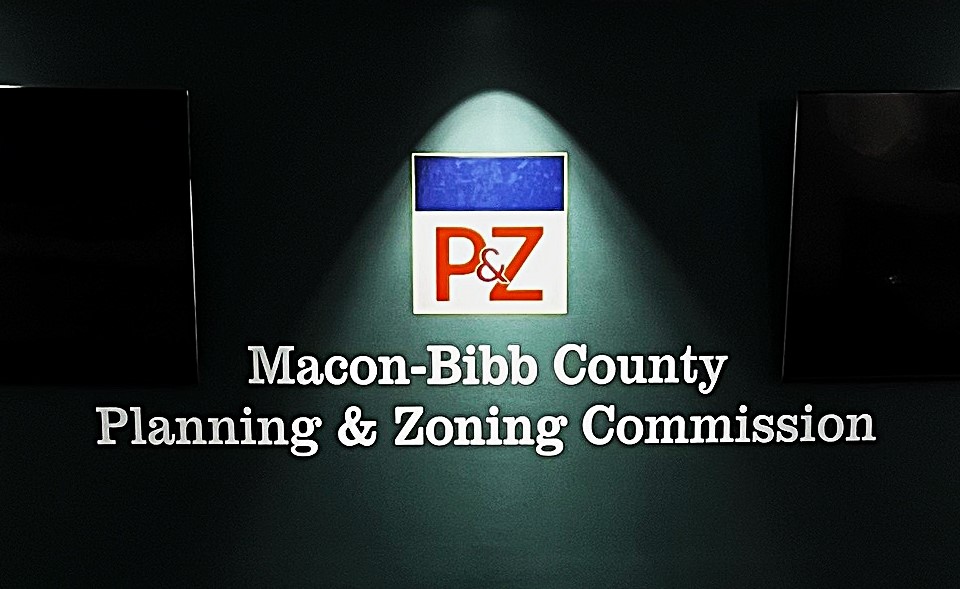 02/22/2021 Hearing Agenda
The Macon-Bibb County Planning and Zoning Commission will hold a public hearing via Zoom on Monday, February 22, 2021 at 1:30 p.m. The administrative meeting begins at 12:30pm and will be live streaming on MBPZ's YouTube Channel.
If you will be speaking to the Zoning Commission, you will need to pre–register online until Friday 3:30pm prior to the Monday's hearing.
Go to MBPZ's YouTube Channel to view the live stream.
(If joining remotely: Commission board members, applicants & meeting speakers will receive Zoom access credentials via email one hour prior to the hearing.)
Administrative meeting agenda
Call to order
Review of Agenda Items
New Business
Old Business
Adjourn
Hearing Agenda
1. 00240 Mercer Junction | Conditional use | to allow a foundation repair business, PDE District | Nancy Videon/Videon Properties/Clean USA Inc., dba Lowcountry Foundation Repair, applicant
2. 00540 Allied Industrial Blvd | Conditional use | to allow wholesale distribution of building supplies, M-2 District | Jeff Muratori/Division 7 Supply, Inc., applicant | moved to ratification
3. 00635/00695 Riverside Dr | Conditional use | to allow a dog park and bar, CBD-1 District | Kate Lambert, applicant
4. 02209 Vineville Ave | Conditional use | to allow a tax preparation and consulting service,[2021-0069] HR-3 District | Shawanda Bembry Burch/SSB Tax Consulting, applicant | moved to ratification
5. 02312 Houston Ave, 445 & 487 Ell St  | Rezoning | from R-3, Multi-family Residential District to C-2, General Commercial District to allow a funeral home with chapel | Tony Widner/Widner & Associates, applicant
6. 02312 Houston Ave, 445 & 487 Ell St | Conditional use | to allow a funeral home with chapel, R-3 District (C-2 pending) | Tony Widner/Widner & Associates, applicant
7. 04295 Interstate Dr | Conditional use | to allow medical office [2021-0091], PDI District | Dr. Paula Harmon, applicant | moved to ratification
8. 04617 Hartley Bridge Rd | Conditional use | to allow a mixed-used retail development, PDE District | Myles Wilkinson/Corporate Property Group, Inc/Russell Wheeler/Triple Point Engineering, applicant
9. 005250 Sardis Church Rd | Rezoning | from Ag, Agricultural District to M-1, Wholesale and Light Industrial District to allow a truck stop with fuel stations, convenience store, repair shop, and out parcels | Stephen Galbraith/DG Development Partners, LLC/Carl Fisher/Foresite Group, Inc., applicant
10. 09292 Mcarrell Dr | Conditional use | to allow a second dwelling, Ag District | Samantha Harrell, applicant | moved to ratification
Items From Previous Agenda
11. 00320, 334 and 342 Hydrolia St/00310, 328 and 334 Main St | Certificate of Appropriateness | to allow design approval of site, design and materials to allow shopping center includes demolition of 2 structures,  CBD-2 District | Ashok Patel/Kunj Construction, applicant | deferred to March 8, 2021 at the request of the applicant
12. 00320, 334 and 342 Hydrolia St/00310, 328 and 334 Main St | Conditional use | to allow a shopping center, CBD-2 District | Ashok Patel/Kunj Construction, applicant | deferred to March 8, 2021  at the request of the applicant