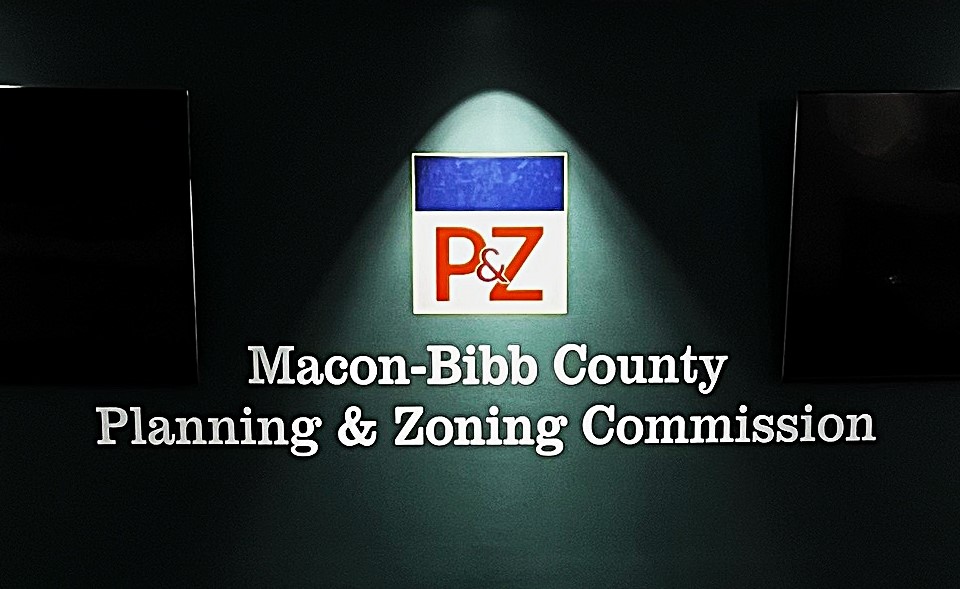 06/13/2022 Hearing
The Monday, June 13th Macon-Bibb County Zoning Commission's hearing will be held at 1:30 p.m. in the MBPZ Conference Room at the Terminal Station, Third Floor. [via Google Maps]
Commissioners will hold an administrative pre-hearing meeting at noon in the same location. Both meetings are open to the public–no testimony will be received during the administrative meeting.
If you intend to testify on an agenda item being reviewed, you need to register to be called for your time to speak. Sign in at the front desk before the hearing or pre-register online now. Pre-registration deadline is Friday at 3:00 p.m. before the Zoning Hearing.  We ask you to review our Hearing Procedures & Protocols before attending an MBPZ Zoning Hearing.
---
Administrative meeting agenda (begins at noon)
Call to order
Staff review of agenda items with Commissioners
New Business
▸ Executive Director's Report
▸ MATS/MPO Q&A
▸ Comp Plan Update
Old Business
Adjourn administrative meeting
---
06/13/2022 | 1:30 pm | Hearing Agenda
I. ROLL CALL
II. APPROVE THE 5/23/2022 HEARING & PRE-MEETING MINUTES

III. REGULAR AGENDA:

1. 00917 Joe Tamplin Industrial Blvd | Conditional use | to allow a cold storage warehouse, M-2 District | Walrus CC, LLC./ George Bene, Applicant
2. 01193 Wesleyan Dr | Appeal of Staff decision | to allow a c-store with fuel sales, C-5 District |   Mark Strozier, Applicant
3. 01250 Eisenhower Pkwy | Conditional use | to allow indoor mini-warehouse storage, PDE District | Nomad Capital/Drake Massa, applicant
4. 01436 Forsyth St | Conditional Use | to allow a c-store with alcohol and fuel sales, HC District | Jim Rollins, Applicant
5. 02820 Jordan Ave | Conditional Use | to allow a single-family detached cluster development,      R-1A District | Century Complete/ Charlotte Booker, Applicant
6. 03755 Bloomfield Rd | Conditional Use | to allow adult daycare center, PDC District | Erika Thomas, Applicant
7. 4173 Cavalier Dr | Rezoning | from R-3, Multi-family Residential District to C-2, General Commercial District to allow multi-family apartments | Kunj Investment Inc/Ashok Patel, Applicant.
8. 04460 Riverside Dr | Conditional use | to allow a veterinary clinic, C-2 District | S.A.F.E., Susan Helton, applicant
9. 04665 Ivey Dr | Conditional use | to allow an office/warehouse, PDC District | Widner & Associates, Applicant
10. 04691 Log Cabin Dr | Conditional use | to allow used auto sales, C-2 District | Alexis Austin/Midtown Auto Sales, applicant
11. 04747 Donnan Rd | Conditional use | to allow a family/church camp retreat, Ag- District |  Jaime C. Dequzman Jr., Applicant
12. 04951 Riverside Dr | Conditional use | to redevelop a commercial site to mixed-use development, C-2 District | Steven Rowland/Rowland Engineering, Applicant
13. 05761 Houston Rd | Conditional use | to allow a bakery with outside seating, PDE District | Felicia's Cale Factory, Felecia Howard, Applicant
14. 05771 Zebulon Rd | Conditional use with variance | to allow retail building & restaurant, PDE District | Steven Rowland/Rowland Engineering, Applicant

15. 01057 Clay Ave | Conditional use | to allow a re-entry home for non-violent offenders, R-3 District | Remove This Reproach/Edward Palmore, Applicant | Withdrawn by applicant
16. 03585 Overlook Ave | Variance | in lot width to allow two lots, R-1AA District | Hamidulla Sodagar & Banu, Sodargar Razia, Applicant | Deferred by staff
17. 03585 Overlook Ave | Variance | in setback requirements, R-1AA District | Hamidulla Sodagar & Banu, Sodargar Razia, Applicant | Deferred by staff
IV. RATIFICATIONS:
18. 00389 Mulberry St | Certificate of Appropriateness | to allow exterior modifications, CBD-1 District | Macon Hotel Investors/J. Randolph Nichols, Applicant
19. 00664 Second St | Certificate of Appropriateness | to allow exterior modifications, CBD-2 District | Longleaf Distilling Co., Applicant
20. 00893 Riverside Dr | Certificate of Appropriateness | to allow design approval of signage, CBD-2 District | Satsang Sagar LLC./ Bharatkumar Amin, Applicant
21. 01059 Washington Ave | Certificate of Appropriateness | to allow exterior modifications, HR-3 District | Wes Gibson, Applicant
22. 01408 Forsyth St | Certificate of Appropriateness | to allow demolition of a building, HC District | Jim Rollins, Applicant
23. 01435 Forsyth St | Certificate of Appropriateness | to allow exterior modifications, HR-3 District | Susan Wilson, Applicant
V. ADJOURN
Next Macon-Bibb County Zoning Commission's hearing: June 27th, 2022