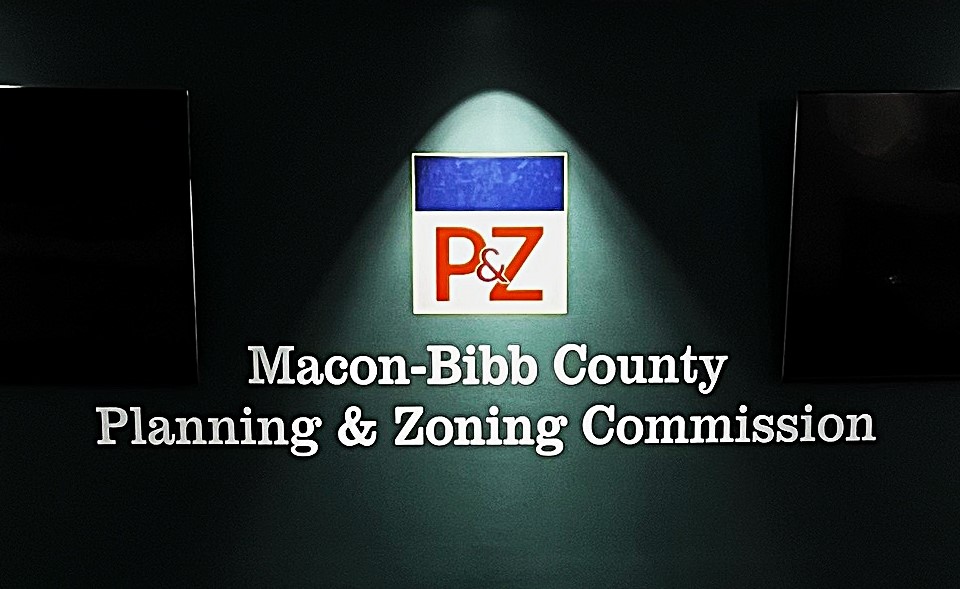 10/23/2023 Hearing Agenda
The Monday, October 23rd Macon-Bibb County Zoning Commission's hearing will be held at 1:30 p.m. in the MBPZ Conference Room at the Terminal Station, Third Floor. [via Google Maps]
Commissioners will hold an administrative pre-hearing meeting at noon in the same location. Both meetings are open to the public–no testimony will be received during the administrative meeting.
If you intend to offer testimony on an agenda item being reviewed, you need to sign in for your time to speak. You can sign in at the kiosk located by the doors of the MBPZ Conference Room. The deadline to sign in is 1:30 p.m. before the Zoning Hearing. We ask you to review our 
Hearing Procedures & Protocols
 before attending an MBPZ Zoning Hearing.
Administrative meeting agenda (begins at 12:30)
Call to order
Staff review of agenda items with Commissioners
New Business
           a. Discussion of section 27.18[5] of the Comprehensive Land Development Resolution.
Old Business
Adjourn administrative meeting
MBPZ Commission Hearing (begins at 1:30)
I. Call to order
Commission Announcement
Roll Call
Oath
III. Changes to the agenda
IV. Consent Agenda
Parcel Number P071-0314 | 149 Buford Pl | Certificate of Appropriateness | for exterior modifications to windows | HR-1 District | James Dews, applicant
Parcel Number Q074-0246 | 416 Orange St | Certificate of Appropriateness | for exterior modifications to windows | HR-3 District | Jocelyn Bryant, applicant
Parcel Number Q073-0107 | 1278 Jefferson Ter | Certificate of Appropriateness | for exterior modifications to windows | HR-3 District | Carol Dixon, applicant
Parcel Number Q074-0541 | 835 Forsyth St | Certificate of Appropriateness | for design approval of signage | HC District | Evan Zebley/ EZ SIGNS LLC, applicant
Parcel Number Q072-0070 | 1020 Riverside Dr | Certificate of Appropriateness | for design approval of signage | CBD-2 District | The Sign Store, applicant
Parcel Number Q073-0231 | 596 Arlington Pl | Certificate of Appropriateness | for design approval of an accessory structure and fence | HR-3 District | Jimmy Cassidy, applicant
Parcel Number R073-0062 | 173 First St | Certificate of Appropriateness | for exterior modifications to allow new windows | CBD-2 District | Bennie Coleman, applicant | Continued to the 11.6.23 DRB meeting
Parcel number BC89-0043 | 2650 Montpelier Station Rd | Conditional Use | to allow a spiritual retreat facility | A district | Krystle Solomon, applicant | Withdrawn by the Applicant
Parcel numbers L002-0013, L002-0141, L002-0142, L002-0143 & L002-0137 | 1771 Bass Rd, 5471, 5469 & 5463 New Forsyth Rd and 5250 Riverside Dr | Conditional Use | to allow a shopping center greater than 250,001 SF | PDE/PDM District | New Forsyth Associates, LLC, applicant | Deferred by the applicant to the 11.13.23 hearing

V. Regular Agenda
Parcel number J007-0123 | 1523 Ginny Dr | Variance | in front and rear setback requirements to allow a single-family dwelling | A district | Gary Walker/ Walker's General Contracting, Inc, applicant
Parcel Number P071-0343 | 2353 Vineville Ave. | Certificate of Appropriateness | to demolish an existing structure, design approval of a new structure and landscaping | HR-3 District | Paula Steinberg/ BTBB, Inc, Applicant
Parcel Number Q101-0199 | 4300 Mead Rd | Conditional Use | to allow a solid waste transfer station with a structure over 35 ft | M-2 District | Guy Eberhardt, Eberhardt Industries, Inc./Mead Road Environmental 2, LLC, Applicant
Parcel numbers N063-0108, N063-0109 & N063-0110 | 3716, 3730 & 3742 Vineville Ave | Rezoning | request from R-1A to R-3 to allow professional office | R-1A District | Franco Demichiel, applicant
Parcel number N063-0110 | 3742 Vineville Ave | Conditional Use | to allow a professional office | Pending rezoning request to R-3 | Thigpin Investment Holdings, LLC, applicant
Parcel number J008-0288 | 2600 Pineworth Rd | Rezoning | request from R-1AAA to R-1 to allow a residential cluster development | R-1AAA District | Steven Rowland/ Rowland Engineering, Inc, applicant
Parcel number J008-0288 | 2600 Pineworth Rd | Conditional Use | to allow a detached single-family residential cluster development with 77 lots | Pending rezoning request to R-1 | Steven Rowland/ Rowland Engineering, Inc, applicant
Parcel number N042-0002 | 3959 River Place Dr | Rezoning | request from C-2 to M-3 to allow a contractor's office, shop and equipment storage | C-2 District | Steven Rowland/ Rowland Engineering, Inc, applicant
Parcel Number M044-0031 | 1677 Forest Hill Rd | Conditional Use | to allow a 288-unit multi-family development | R-3 District | PEC Plus, applicant
VI. New Business
VII. Old Business
VIII. Adjourn
Next Macon-Bibb County Planning & Zoning Commission Hearing: November 13, 2023