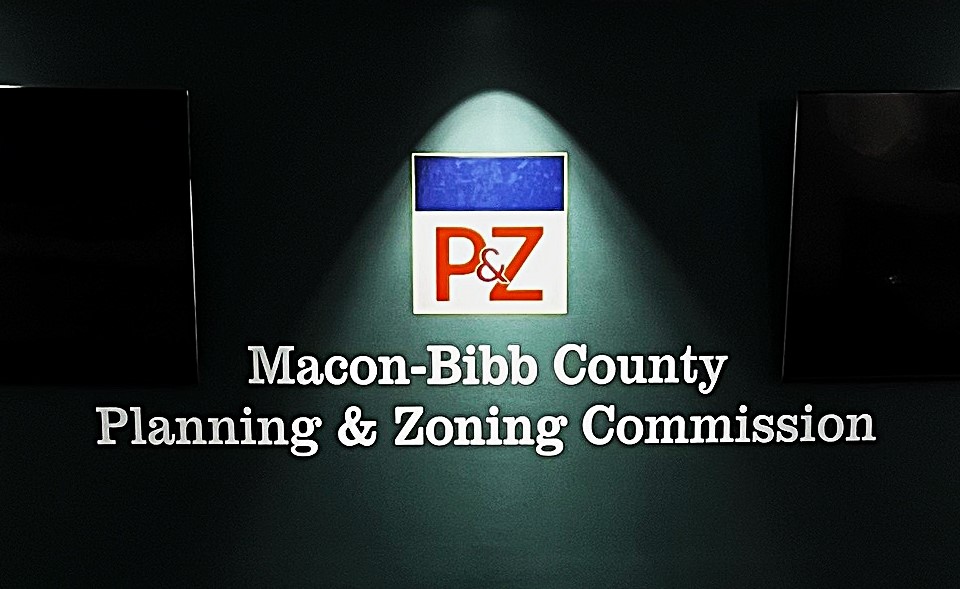 04/26/2021 Hearing Agenda
Updates to Monday's Zoning Hearing as of April 22nd, 5:15 p.m.
Monday's Zoning Hearing will be held at the MBPZ Conference Room
(instead of the Macon-Bibb Government Center.)
Fulton Mill RD items have been deferred until the 05/24/21 Hearing.
Hydrolia ST items have been deferred at the request of the applicant.
---
The Monday, April 26, 2021 meeting of the Macon-Bibb County Planning & Zoning Commission will be held in the MBPZ Conference Room, Terminal Station | 200 Cherry Street, Suite 300 beginning at 1:30 p.m.
The Commission will hold an administrative pre-hearing meeting beginning at noon at the same location. The administrative meeting is open to the public however, no testimony will be received during the administrative meeting.
If you plan on attending the zoning hearing and wish to offer testimony on an agenda item, you are required to pre-register online or you can sign-in at the front desk before the hearing begins. The deadline for pre-registration is Friday 3:30 p.m. before the zoning hearing.
Notice:
Social distancing rules apply.
Limited seating available.
Fever checks & masks are required for admittance & attendance.
The hearing will be streamed on our MBPZ's YouTube Channel
Administrative meeting agenda
Call to order
Review of Agenda Items
New Business
Old Business
Adjourn
Hearing Agenda
1. 00468 Hawthorn Tr (includes multiple parcels) | Conditional use | to allow change in architectural design & materials [2021-0381], PDE District, WJH,LLC/Century Complete, applicant | Recommended for ratification
2. 00880 Pio Nono Ave | Conditional use | to allow a community resource center, C-1 District, Sherry Williams-Mitchell, applicant |
3. 01120 Second St /01161 Third St | Conditional use | to allow revision to a previously approved site plan for 48 multi-family dwellings, PDE District, Denis Blackburne/Woda Cooper Development Inc., applicant | Recommended for ratification
4. 01580 Oglethorpe St | Certificate of Appropriateness | to allow exterior modification for roof replacement, HR-3 District, Lesley Clark, applicant | Recommended for ratification
5. 03980 Northside Dr | Conditional use | to allow a restaurant with drive-through, PDC District, Taraz Darabi, applicant |
6. 04031 Fulton Mill Rd | Rezoning | from Ag-Agricultural District to PDE, Planned Development Extraordinary District | to allow a mixed use development | Larry Bielski, Macon Investment Holdings/Wendy Sherlock, Upward Construction, applicant | Deferred until the 05/24/2021 Hearing
7. 04031 Fulton Mill Rd | Conditional use | to allow conceptual approval and final site plan approval of a 95-lot single-family subdivision, Ag-District [PDE Pending], Larry Bielski, Macon Investment Holdings/Wendy Sherlock, Upward Construction, applicant | Deferred until the 05/24/2021 Hearing
8. 05571 Thomaston Rd | Conditional use | to allow a restaurant with drive-through, C-4 District, Tim Minor, Tacala, LLC., applicant |
9. 05571 Thomaston Rd | Variance | to allow a retaining wall with height greater than 10FT, C-4 District, Tim Minor, Tacala, LLC., applicant |
Items From Previous Hearings
10. 00320, 334 & 342 Hydrolia St/00310, 328 & 334 Main St | Certificate of Appropriateness | to allow design approval of site, design and materials to allow shopping center includes demolition of 2 structures,  CBD-2 District | Ashok Patel/Kunj Construction, applicant | Deferred by the applicant
11. 00320, 334 and 342 Hydrolia St/00310, 328 and 334 Main St | Conditional use | to allow a shopping center, CBD-2 District | Ashok Patel/Kunj Construction, applicant | Deferred by the applicant

12. 00111, 00115 Lochwolde Dr 208, 210, 212, 214, 216, 218, 220, 240, 242, 246, 248, 250, 252 York Lane  | Conditional use | to allow change to architectural design of previously approved cluster subdivision, PDE District | Charlotte Booke/WJH, Century Complete, Applicant |