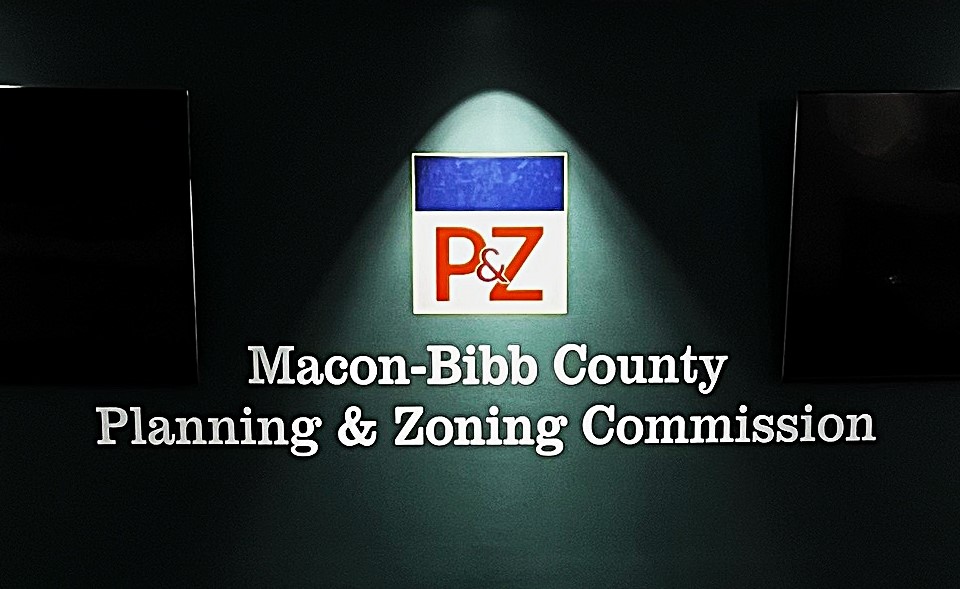 09/14/2020 Hearing Agenda
The Monday, September 14, 2020 meeting of the Macon-Bibb County Planning & Zoning Commission will be held in the MBPZ Conference Room, Terminal Station | 200 Cherry Street, Suite 300 beginning at 1:30 p.m. The administrative meeting begins at noon.
Notice:
Social distancing rules apply.
Limited seating available.
Fever checks & masks are required for admittance & attendance.
 If you will be speaking to the Zoning Commission, you will need sign-in at before the hearing or register online here. Go to MBPZ's YouTube Channel to view the live stream.


(If joining remotely: Commission board members, applicants & meeting speakers will receive Zoom access credentials via email the day of the hearing.)
Administrative meeting agenda
Call to order
Review of Agenda Items
New Business
Old Business
Adjourn
Hearing Agenda
00111 Providence Blvd | Conditional use | to allow a sales trailer, PDE District | Jeremy Caims/Watercrest, applicant | recommended for ratification
00261 College St | Certificate of Appropriateness | to allow installation of fence and gates, HR-3 District | Julie Groce, applicant  | recommended for ratification
00385 Coliseum Dr | Conditional use | to allow revision to previously approved site plan, C-2 /R-2 District | Jim Rollins /The Summit Group, applicant

00830 Mulberry St | Conditional use | to allow art studio, HR-3 District | Tammy Ratzekn/Tammy's Ratzken's Art Studio, applicant | recommended for ratification

00927 Edgewood Ave | Certificate of Appropriateness | to allow demolition of structure, HPD-BH District | Shannon Fickling/Historic Macon Foundation, applicant | recommended for ratification
01280 Ross St | Certificate of Appropriateness | to allow a storage building, HPD-BH District | Cornelia Walker, applicant | recommended for ratification
02370 Vineville Ave | Certificate of Appropriateness | to allow for exterior modifications and signage, HR-3 District | Chris Sims, Interim Healthcare, applicant | recommended for ratification
03333 Northside Dr | Conditional use | to allow an infusion clinic, C-1 District | Brandy Snook /Midstate Infusion Center, applicant | recommended for ratification
03468 Napier Ave | Conditional use | to allow a medical office, C-1 District | Preston Ayer, applicant
03710 Northside Dr | Conditional use | to allow revision to previously approved site plan to include covered parking with solar arrays | Jeff Carter/Carter Engineering Consultants, Inc, applicant

04740 Mt Pleasant Church Rd | Conditional use | to allow retail parts store, PDE District | Paterson Ogburn III/Ogburn Realty, Inc., applicant
05226 Ocmulgee East Blvd | Rezoning | from A, Agriculture to PDC, Planned Development Commercial to allow a mixed-use commercial development | George Greer/polar Squire, LLC., applicant

05748 Moseley Dixon Rd | Conditional use | to allow boat storage for marina | PDE District | Jeff Neisler/Central Georgia Marina, applicant
07782 Zebulon Rd | Variance | to allow two flag lots, Ag – District | Tom Ward/Ward & Shaker, LLC., applicant | recommended for ratification
08229 Columbus Rd | Conditional use | to allow HVAC warehouse building, C-2 District | M & W Heating and Air, applicant | recommended for ratification
08668 Eisenhower Pkwy | Variance | to allow platting of properties not fronting public r/w, A-Agriculture-District | Caleb Jernigan, applicant | recommended for ratification